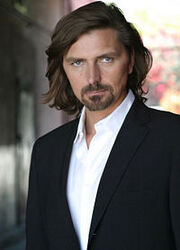 Robin Atkin Downes is a English actor and voice actor, who is best known for his work live action, animation and video games. His work includes appearances in Buffy The Vampire Slayer, Avengers Earth's Mightiest Heroes, Regular Show, Babylon 5, Angel, How to Train Your Dragon, Steamboy, Star Wars: The Clone Wars, Thundercats, X-Men Legends, Team Fortress 2, Marvel: Ultimate Alliance, Justice League: Doom, Superman vs The Elite, No More Heroes, Kingdom Hearts, the Halo series and Metal Gear Solid: Peace Walker.
Ad blocker interference detected!
Wikia is a free-to-use site that makes money from advertising. We have a modified experience for viewers using ad blockers

Wikia is not accessible if you've made further modifications. Remove the custom ad blocker rule(s) and the page will load as expected.