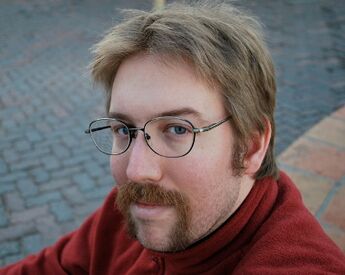 Patrick Seitz is a Los Angeles voiceover actor, script adapter and ADR director who has lent his efforts to over 100 anime and video game titles over the last decade.
Patrick is definitely what you'd call a character actor, having voiced roles like Germany in Hetalia, Simon in Durarara!; Agni in Black Butler, Sloth in Fullmetal Alchemist: Brotherhood, Chosokabe Motochika in Sengoku Basara, Grimmer in Monster, Nekozawa in Ouran, Isshin Kurosaki in Bleach, George in Paradise Kiss, Dhaos in Tales of Phantasia, Koshiro in Koi Kaze, Lee Linho in ROD the TV, and Luke Valentine in Hellsing and Hellsing Ultimate.
Patrick has a BA in Creative Writing and an MFA in Creative Writing & Writing for the Performing Arts, both of which he received at the University of California, Riverside. Before falling down the voiceover rabbit hole, he spent two very Welcome Back, Kotter-esque years teaching English at his old high school.
Roles
Anime roles
Amazing Nurse Nanako - Saint
Angel Tales - Rei
Black Butler - Agni
Bleach - Isshin Kurosaki, Sentaro Kotsubaki, Akon, Aida
Blue Dragon - Homeron the Second, Innkeeper
Boys Be... - Yoshihiko Kenjo
Buso Renkin - Captain Bravo
Code Geass - Yusk
Dance in the Vampire Bund - Ivanonic
Dangaizer 3 - the Dangaizer
Daphne in the Brilliant Blue - Wong
DearS - Xaki
Durarara!! - Simon Brezhnev
Fullmetal Alchemist: Brotherhood - Sloth
Fullmetal Alchemist: The Sacred Star of Milos - Lt. Colonel Herschel
Gankutsuou - Boville
Ghost Talker's Daydream - Otaguro
Girls Bravo - Hayate
Gunslinger Girl -Il Teatrino - Ludovico
Gun Sword - Joe
Haré+Guu - Tom
Hetalia: Axis Powers - Germany
Honey & Clover - Kaoru Morita, Kauzhiko Hasegawa, Professor Shouda
Ikki Tousen - Taishiji
Koi Kaze - Koshiro Saeki
Kurokami: the Animation - Steiner
Kekkaishi - Masamori Sumimura, Narrator, Uhosuke, Young Shigemori Sumimura
Kyo Kara Maoh! - Shori Shibuya
Mega Man Star Force - Gemini
Mermaid Forest - Toba Islander
Monster - Wolfgang Grimmer
Murder Princess - Kaito/Dark Knight
Mushishi - Seishirō (Ep. 19)
Naruto Shippuden - Raido Namiashi, Teuchi (Ep. 90)
NieA 7 - Shuei Karita
Ouran High School Host Club - Umehito Nekozawa
Paradise Kiss - Joji "George" Koizumi
Paranoia Agent - Zebra, Manga Hero
R.O.D The TV - Lee Linho
Redline - JP
Rumiko Takahashi Anthology - Employee, Yuko's Husband
Saiyuki Reload Gunlock - Hazel Grouse
Sengoku Basara - Chousukabe Motochika
Sengoku Basara II - Chousukabe Motochika
Speed Grapher - Kokuryo
Starship Girl Yamamoto Yohko II - Commander Fuligar of Ness
Strawberry Eggs - Akira's Father
Summer Wars - Kunihiko Jinnouchi
Tekken: Blood Vengeance - Jin Kazama (credited as Darren Daniels)
Texhnolyze - Keigo Onishi
The Melody of Oblivion - Kurofune Ballade
Vampire Knight: Guilty - Rido Kuran, Hanabusa's Father
When They Cry - Mamoru Akasaka
Zegapain - Shima
Non-anime roles
Video Game roles