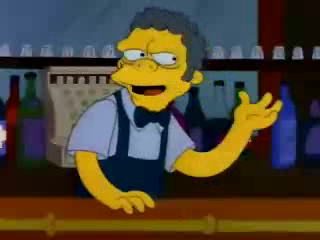 Moe Syzlac is Springfield's local bartender and one of Homer's closest friends. In Seasons 1-7, Bart prank calls him for names of people that don't exist.He assumes a leading role in many of Springfield's angry mobs (such as a soccer riot in the episode "The Cartridge Family"), and kidnapping Talking Heads vocalist David Byrne. He has also shot at Carl Carlson, robbed Homer of expensive pants, kept Hans Moleman under his bar's floorboards in a subterranean chamber, perpetrated insurance fraud ("Dumbbell Indemnity"), shot Sam in the back for trying to pay in Sacagawea dollars, and stalked various townspeople. His sociopathic tendencies are made the subject of humour in "Burns' Heir", where he can be seen in his own home preparing a dialogue for some kind of confrontation in front of a mirror, and using a home-made sliding action pistol holster (which comically smashes the mirror) in a parody of Robert De Niro's Travis Bickle character from Taxi Driver. This behavior is further exhibited in The Simpsons Movie when he becomes the self-proclaimed "Emperor of Springfield" when the town is ruined. His leadership is challenged by Barney Gumble, who throws a Molotov Cocktail at him, which Moe successfully throws back. He was originally voiced by Chris Latta (The original voice of Starscream) and here on out by Hank Azaria.
Prank Phone Calls
I.P. Freely
Jock Strap
Al Coholic
Oliver Clothes-off
Seymore Butz (See more Butts)
Hugh Jazz
Homer Sexual
Mike Roch
I'm a stupid moron with an ugly face and a big butt and my butt smells and I like to kiss my own butt
B O-Problem
Amanda Huggin Kiss
I Vanna Tinkle
Videoes
Images
Ad blocker interference detected!
Wikia is a free-to-use site that makes money from advertising. We have a modified experience for viewers using ad blockers

Wikia is not accessible if you've made further modifications. Remove the custom ad blocker rule(s) and the page will load as expected.