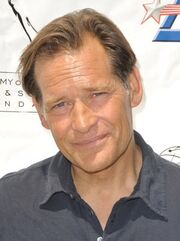 William James Remar (born December 31, 1953) is a American film actor, television actor, and voice artist. He is probably best known for his live action roles as Dexter's father Harry Morgan on Dexter, Ajax from The Warriors, Richard, the on-off tycoon in Sex and the City, Albert Ganz in the 1982 comedy/thriller 48 Hrs., Dutch Shultz in The Cotton Club, and Lord Raiden in Mortal Kombat: Annihilation.
For his voice roles, he has been the alien Vilgax in Ben 10: Alien Force (a role he took over from Steven Blum), the Carter Hall Hawkman, and The Manhunters in Justice League, Chef Larousse in Pixar's Ratatouille, Two-Face in Batman: The Brave and The Bold, Black Mask in The Batman, Icicle Sr. in Young Justice, Walter Hardy in The Spectacular Spider-Man, and Sideswipe in Transformers: Dark of the Moon (a role he took over from André Sogliuzzo ).
He'll be voicing a Character in Transformers: Prime.
Ad blocker interference detected!
Wikia is a free-to-use site that makes money from advertising. We have a modified experience for viewers using ad blockers

Wikia is not accessible if you've made further modifications. Remove the custom ad blocker rule(s) and the page will load as expected.