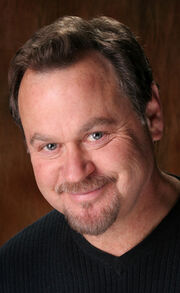 Greggory "Gregg" Berger (born December 10, 1950; St. Louis, Missouri) is an American voice actor, who is known for his longtime role as Odie the dog from the Garfield franchise. His other roles include Grimlock from The Transformers, Mysterio from Spider-Man, The Gromble from Aaahh!!! Real Monsters, Captain Blue from Viewtiful Joe, Eeyore from Kingdom Hearts II, and The Thing from Marvel: Ultimate Alliance.
Notable roles
TV
Disney's Recess - Bob Spinelli
Aaahh!!! Real Monsters - The Gromble
Batman: The Brave and the Bold - Creature King, Hammer Toes
Disney's House of Mouse - Thomas O'Malley
Duckman - Cornfed Pig
Fantastic Max - A.B Sitter
Garfield and Friends - Orson, Odie, Floyd, Additional Voices
Gargoyles - Leo
G-Force: Guardians of Space - Hoot Owl (Hooty); Dr. Brighthead; Computor
G.I. Joe: A Real American Hero - Col. Brekhov, Cutter, Firefly, Ripcord, Sparks, Spirit
Grim & Evil - Bailiff, Additional Voices
Little Nemo: Adventures In Slumberland - Equestrian Master
MAD - Jake Lonergan, Claudus
Sesame Street - The Bellhop
The Angry Beavers - Bill Licking, Additional Voices
The Powerpuff Girls - Jack Wednesday
The Littles - Frank Little
The Transformers - Grimlock, Skyfire, Long Haul, Outback
The Wuzzles - Tycoon
Tranzor Z - Tommy Davis (Kouji Kabuto), Devleen (Baron Ashura)
Wings - Clerk
Films
Video games
Ape Escape 3 - Red Monkey
Ape Escape Academy Red Monkey, Pipotron Red
Arc the Lad: Twilight of the Spirits - Samson
Call of Duty - Sgt. Moody, Additional Voices
Call of Duty United Offensive - Sgt.Moody
Curse of Monkey Island - Cutthroat Bill
Dark Cloud 2 (PAL format Dark Chronicle) - Jurak
Dead Rising - Brock Mason
Dissidia Final Fantasy - Jecht
Dissidia 012 Final Fantasy - Jecht
EverQuest II - Narrator
Guild Wars: Factions - Erek
Halo Wars - Captain James Gregory Cutter
Kid Icarus: Uprising - Magnus
Lost Odyssey - Adjutant General, Barkeeper, Citizen
Spyro 2: Ripto's Rage - Ripto, Hunter the Cheetah, Gulp, Crush
Spyro: Enter the Dragonfly - Ripto, Hunter the Cheetah, Crush, Gulp
Star Wars Episode I: The Phantom Menace (video game) - Darth Maul
Star Wars: Knights of the Old Republic - Additional Voices
Viewtiful Joe - Captain Blue, King Blue, Narrator
Viewtiful Joe 2 - Captain Blue, Narrator
Ad blocker interference detected!
Wikia is a free-to-use site that makes money from advertising. We have a modified experience for viewers using ad blockers

Wikia is not accessible if you've made further modifications. Remove the custom ad blocker rule(s) and the page will load as expected.