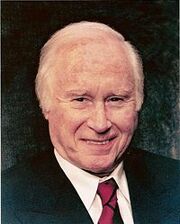 George Coe (born 1929 in New York City) is an American actor. Among his abundant credits, he voiced Albert Einstein in Celebrity Deathmatch. Hmmm! Some of his other prominent roles include Ben Cheviot in Max Headroom, Jim O'Connor in Kramer vs. Kramer, and Judge Vance on L.A. Law. He was an original cast member on Saturday Night Live. More recently he has taken on a number of voice roles, voicing Woodhouse the butler on Archer, and Wheeljack/Que in Transformers: Dark Of The Moon.
Ad blocker interference detected!
Wikia is a free-to-use site that makes money from advertising. We have a modified experience for viewers using ad blockers

Wikia is not accessible if you've made further modifications. Remove the custom ad blocker rule(s) and the page will load as expected.