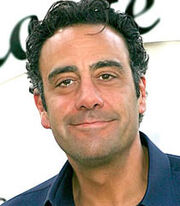 Brad Garrett (born April 14, 1960) is an Three time Emmy-Award winning American voice actor, comedian and screen actor. He's known for many live action roles (including Robert Barone on Everybody Loves Raymond, and Eddie Stark on Til Death) as well as cartoon voices (Big Dog on 2 Stupid Dogs, the titular Hulk Hogan on Hulk Hogan's Rock 'n Wrestling, Lobo and Bibbo Bibbowski on Superman: The Animated Series, Trypticon from The Transformers, Dim the Rhino Beetle on A Bug's life, and Bloat on Finding Nemo just to name a few).
He's just as huge as the Transformer he voiced.
Ad blocker interference detected!
Wikia is a free-to-use site that makes money from advertising. We have a modified experience for viewers using ad blockers

Wikia is not accessible if you've made further modifications. Remove the custom ad blocker rule(s) and the page will load as expected.