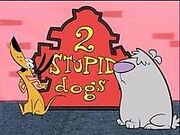 2 Stupid Dogs was an American animated television series created by Donovan Cook and produced by Hanna-Barbera and Turner Program Services that originally ran from September 5, 1993 to February 13, 1995 on TBS. The main segments of the show featured two dogs, "Big Dog" and "Little Dog". The Big Dog was voiced by Brad Garrett and the Little Dog was voiced by Mark Schiff. Reruns are played on Cartoon Network's classic animation network Boomerang in 2005 through 2006, and returned on June 1, 2009 (though only showing it every summer), and also returned on July 5, 2011 to Cartoon Network for the first time in ten years, but it was removed from the lineup on September 26, 2011.
A backup segment, a remake of Hanna-Barbera's Secret Squirrel (entitled Super Secret Secret Squirrel), was shown in between the main 2 Stupid Dogs cartoons in many of the 13 episodes, similar to early Hanna-Barbera cartoons in the 1960s.
Plot
2 Stupid Dogs is about a big dog and a little dog, who aren't very smart as the title explains, and their everyday misadventures, with an animation style unusual for the time: a very flat, simplistic style similar to early Hanna-Barbera cartoons of the '50s and '60s, but with early '90s humor and sensibility. In addition, the Big Dog talks much less than the Little Dog does and most of the time, the Little Dog talks about food. It also did not have a series structure, similar to many humorous cartoons and sitcoms. The show did not follow a continuous storyline — what happens in one episode has little to no effect on another. 2 Stupid Dogs contained very brief sexual innuendos, as did other cartoons at the time, such as Rocko's Modern Life.
Principal cast
Additional voices
Crew
Ad blocker interference detected!
Wikia is a free-to-use site that makes money from advertising. We have a modified experience for viewers using ad blockers

Wikia is not accessible if you've made further modifications. Remove the custom ad blocker rule(s) and the page will load as expected.